ECO PEST MANAGEMENT
Your Friendly Pest Control Cairns Specialist
Domestic and Commercial Pest Control | Building and Pest Inspections
A Local Cairns Business You Can Trust
At Eco Pest Management, we aim to provide you, our valued customer, with Cairns pest control and management solutions that are effective, safe, environmentally responsible, and competitively priced.
We utilise the latest pest management technologies, and the finest quality products and systems to ensure that your property has the best possible protection.
As a locally based, family owned and operated company, we are proud to offer the following pest control services in Cairns and its surrounding region.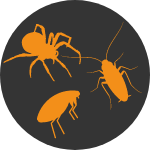 Our General Pest Control in Cairns provides domestic and commercial protection from all types of pests including cockroaches, ants, spiders, silverfish, fleas, bed bugs and rodents.
As termites are so prolific in the Cairns region, we have provided a separate section on termite treatment Cairns.
Termites are the most problematic pest in the Cairns region due to their highly destructive nature. As insurance companies do not cover termite damage, it's crucial to have an effective termite treatment Cairns strategy for your home and business.
WHAT OUR CLIENTS HAVE TO SAY
The service that we received from Eco Pest Management was simply brilliant. The advice was invaluable.
Peter was punctual and was thorough. I would recommend them.
NBCM have worked with ECO for over 6 years and have built a fantastic working relationship.
With Peter and Julie being a small local company, their service is exceptional.
We recently bought an investment property and needed a building and pest report ASAP.
Peter and his team were very thorough and gave willingly of their knowledge to help out.
We were extremely impressed by the punctuality, of Peter at Eco Pest Management.
He arrived on-site and completed his job on time. Would highly recommend them.

Protected by MDB and reCAPTCHA