How Does Rain Affect Pest Control Treatments?
Needless to say, if you've just spent money on having a Cairns pest control specialist treat your home or property for pests, the last thing you need is to have a typical wet season downpour wash the treatment away.
In most cases, callers ask us:
Can you spray pesticides in the rain?
Will the rain wash the treatment away?
Should we cancel our pest control appointment or not?
Here's a complete answer to those questions, along with some key pointers to help you out.
Does rain affect pest control?
If you've just had the exterior of your home treated for pests such as termites and it rains not long afterwards, chances are it won't affect the treatment whatsoever. There are 2 reasons for this:
Most homes have eaves and guttering that overhang wall edges – so, unless the rain is coming in with 80kph wind gusts and blowing directly against the walls, it's not going to have any affect on your pest control in Cairns or the surrounding region.
When we conduct a pest control treatment to the exterior of the home or business, we ensure that we don't spray wet surfaces. There's usually no point in spraying a wet surface as the chemicals don't get the opportunity to reach their maximum efficacy. If it's been raining heavily for hours on end before performing the pest treatment, then it's probably not a good time to spray.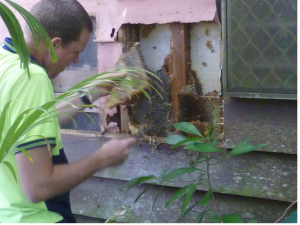 Should you cancel your Cairns pest control appointment?
There will be some exceptions to the rule, but for most cases you won't need to reschedule your  Cairns pest control appointment. Obviously, if you're only having the inside of the property treated for pests you won't need to, but there are a few things you need to be aware of if it's been raining and you intend on having the externals treated.
Firstly, many of the insecticides that we use are insoluble and won't be washed away by rainfall. Having said that, if it's been raining heavily for days on end and the weather only looks to be getting worse, then it might be best to reschedule your pest control treatment.
Secondly and usually with wet and soft ground, many pests will surface to escape their flooded nests. This may result in the pest control treatment being more effective, as pests come into direct contact with the pesticide and the granules disolve into the ground, reaching the nest beneath the surface. Interestingly, some manufacturers recommend their pesticide is applied to wet surfaces for the very reason mentioned above.  
So, for some Cairns pest control treatments, if it's going on wet ground, it's even more effective. However, be mindful that this is not often the case, therefore it is important to read the instructions, or have a qualified pest control specialist apply the pesticides.
In Summary
Our insecticide spray is highest quality and, when applied to the outside of a home, can protect it from termites and other common garden pests. The product is dried within 10 minutes, so if it rains thirty minutes later, the treatment will not be washed away.
Although there are occasions when a damp area is fine for the application of pest control measures, it's best to contact a pest treatment expert for further advice.
For more information, give Peter from Eco Pest Management a call to discuss your pest control Cairns needs.